When I first travelled this way, all I saw was countryside punctuated by moors, but over the past year I've driven between Falmouth and north Devon often enough to get to know the changing shape of the land on the peninsula. Cornwall's mines and windfarms, the post-apocalyptic waste of Bodmin, ruined pump houses, white pyramids and stepped ziggurats of slag colonised by gorse and heather, artificial lakes. The fields in the valleys that seem to blend into the common grazing on the moors, as if the hedges and walls are partially permeable. Bodmin is signposted from miles around by the telecommunications mast that rises from it, an absurdly exaggerated flagpole, a pin on a Google map. It's a landscape that shows the marks of use. You could call them scars, but there's a beauty to it that I wouldn't want to wish away or regret.
Roll into Devon. The Tamar is disguised by the engineering of the A30 and can easily slip by unnoticed. But, unmissable, the tors of Exmoor rise up, ancient and still unconquered, on the right, while to the left hills and hedges stretch all the way to the horizon. This is Tarka country, and you wouldn't know by looking that it's changed at all since Henry Williamson crawled through it to get his otter's eye view. Farms and villages, hunting and fishing, there's a sense that if we believe it, it'll still be true. In the far distance, past Hatherleigh, Torrington, Bideford and Barnstaple, a windfarm is rising here too. But not without fuss. The 'distinctive character' of the place has been frozen in time since the beginning of the twentieth century, through an act of collective determination unparalleled in the history of the English landscape.
This weekend I'm going to the museum in Barnstaple to see a James Ravilious photography exhibition. Between the 1970s and the 1990s, Ravilious took over 80,000 photographs in the north Devon area, "intended as a photographic record of life in a largely unspoilt, but vulnerable, country area." The images are an incredible record, and also beautifully composed photographs in their own right. But there were assumptions implicit in the intention of the project – that life in Devon belonged to a kind of stable, unchanging 'yesteryear' "when the country traditions that have been handed down for hundreds, if not thousands, of years were still part of everyday existence", and that now this was being lost for something worse. Ravilious's photography compounds this through his soft-focus and uncoated lenses, creating black and white images that are, more than anything else, picturesque. They fit into a tradition of countryside representation and preservationist thought that venerates the idea of an organic community, a natural life with a natural order. They say, this is threatened by your modernity, but it should be eternal. While other places are fallen, Devon will remain an Eden. There is obviously no place in Ravilious' Devon for modern agricultural machinery (tractors are alright but only if they look rusty), incoming urban migrants, or, heaven forbid, wind farms. This is a working landscape, but more than that it is a picturesque landscape, where the interest of aesthetics trumps the interest of production every time. Cornwall has a historic landscape, but here, the landscape is a living museum.
Ravilious has picked a moment in Devon's history that is now regarded as the Golden Age. But it is an inaccurate presentation, as self-consciously selective as the composition of a photograph. Agriculture in Devon in the 70s and 80s was largely dependent on European subsidies and employed fewer and fewer people year on year. The difference between the country and the city was increasingly one of setting – people watched the same television, had a very similar education, and often did the same jobs. There is a dream of self-sufficiency in this Golden Age that shuts its eyes to anything that doesn't fit.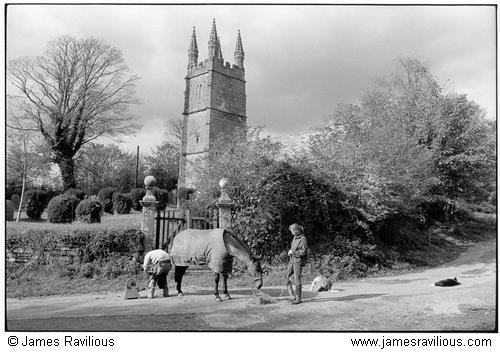 This setting, the landscape, the view, which is itself the product of changing trends in agriculture and land use, has now become sacrosanct. The hedgerows that once marked the enclosure of the commons are now protected by law in quite a different way. It's not a modern obsession with progress for progress sake that threatens Devon, or a sudden, unnatural urge for technological innovation that drives farmers to welcome wind farm developers onto their land. We've been so diligent in remembering our fathers' and grandfathers' farming techniques and lifestyles that we've forgotten how much has changed. For better or worse, life in Devon isn't like it is in Ravilious's photographs. Now hardly anyone is employed in agriculture, a large proportion of the population are incomers, and the country lifestyle is more dependent on foreign oil fields and distant power stations than a decent harvest or good prices at the market. Devon's landscape hides behind planning restrictions and preservationist ideals, and it's hard to see what's going on underneath it all.
*For more of James Ravilious's photos, see http://www.jamesravilious.com*